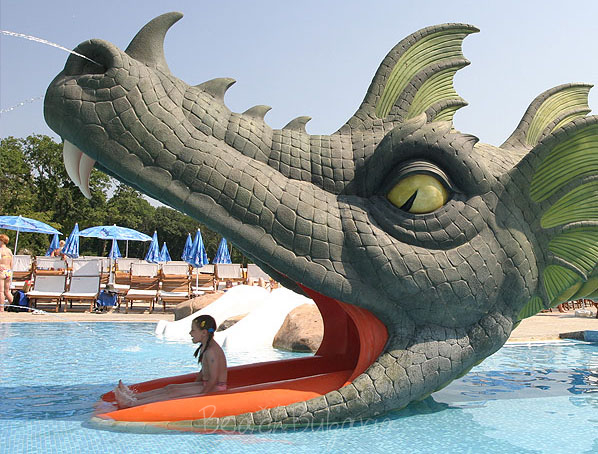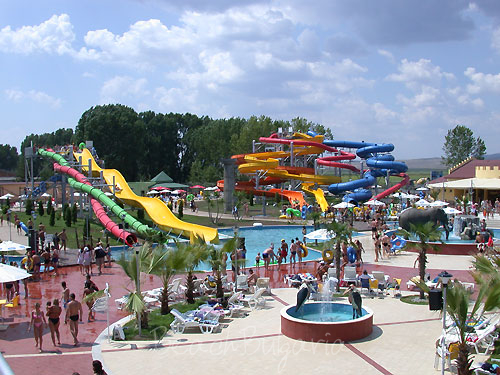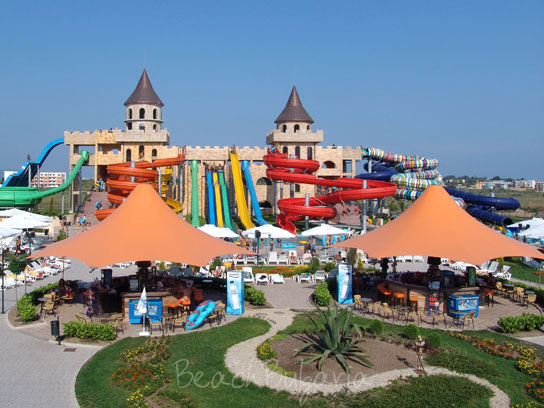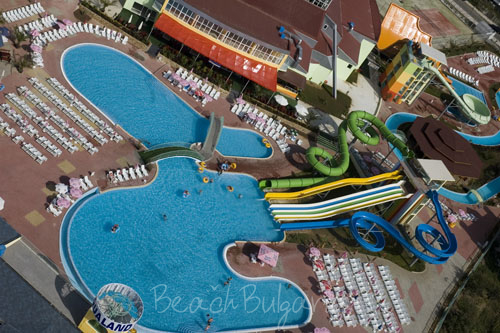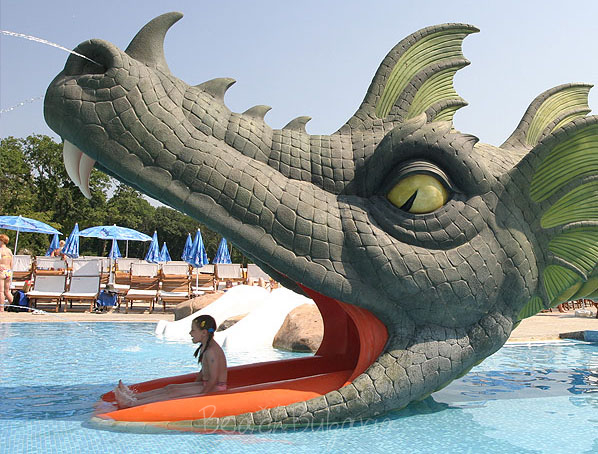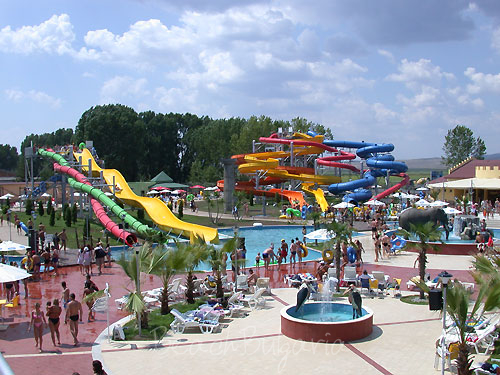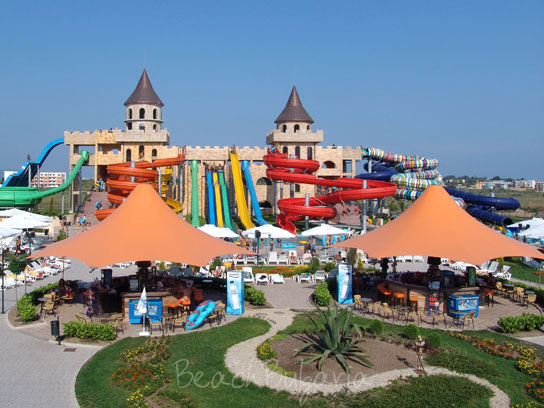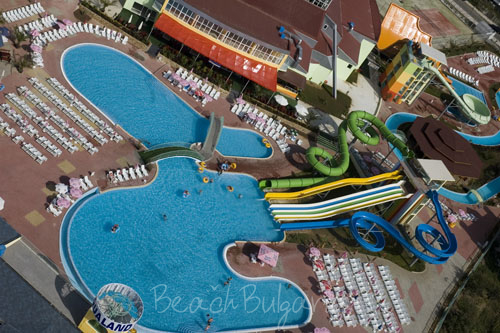 To ensure a nice, cooling and refreshing summer vacation for both you and your children, you should definitely spend some time in a nice water park. Thus you will get refreshed, will have fun with the games and the adventurous facilities and will totally feel the charm of the summer. BeachBulgaria.com has chosen 5 of the best aquaparks in the most famous Black Sea resorts in Bulgaria. Have a look and enjoy!

1. Aquapolis in Golden Sands
Attraction Park 'Aquapolis' is considered the most beautiful water park in Eastern Europe. It is the first one in Bulgaria, established in a unique Mauritian Mediterranean style. It is located in the northwestern part of Golden Sands, on the main road from 'Riviera' to 'Albena'. Wild River, Niagra, Blac Hole, Slide Slalom and Kamikadze slides are at tourists' disposal. The adult section accommodates Slow River, passing by a water temple with a waterfall, water streams and temple ruins. A large pool for adults and a balneology zone, with Jacuzzi and hydro-massage. At the children shelter the attraction for kids is the pool with the large dragon and several slides of varied length. The fast-food establishment include restaurant "Ambrosia", restaurant a la cart "Arcadia", pool-bar "Neptune", panoramic snack-bar "Alcazar".

2. Action Aquapark in Sunny Beach
Action Aquapark has the most amusing, inspiring and emotional location on the Black Sea coast. The park is located in the Western part of Sunny Beach. The park offers water attractions for every taste and age. 13 water attractions, cocktails bars offering fresh drinks and restaurants. The attractions include Kamikadze, Twister, Niagra, Black Hole, Crazy River, Hydro-tube, Mega slide, kid's playground, children's pool, Water Castle, Lazy River, Wave Pool and adult pool.

3. Aqua Paradise in Nessebar
This paradise is situated on area of 30 000 sq. km. to the west of the seaside resort Nessebar. Aqua Paradise Nessebar with its over 20 attractions is a unique place for unforgettable fun and emotions. The water slides, tunnels, swimming pools are of a most modern type and impress both with their size and their safety. The total length of the slides exceeds 650 m, and they are located among exotic castles, swimming pools, restaurants, open cocktail bars, verdure, which turn the park into one of the most exciting places for entertainment of both children and adults in Bulgaria.

4. Aqua Planet in Primorsko
Aqua Planet Primorsko is located in Primorsko resort, 40 km south of Bourgas. The aquapark has great waterslides and pools. It is a small park, not overcrowded with people, which is part of a large sport-centre, sheltering spa and wellness centre, volleyball and basketball courts and a fitness hall. Aqua Planet Primorsko is the perfect place for family parties, birthday celebrations and fun under the sun.

5. Kuban Aquapark in Sunny Beach
The aquapark at Kuban Hotel is the oldest aquapark in Sunny Beach. The guests of the hotel and the aquapark can enjoy such water attractions as: Kamikaze, Curving Dragon, Black Hole, Braid and other water slides. There are two bars and a restaurant of Mexican food, serving exquisite dishes, meeting the demands of the most capricious gourmet.