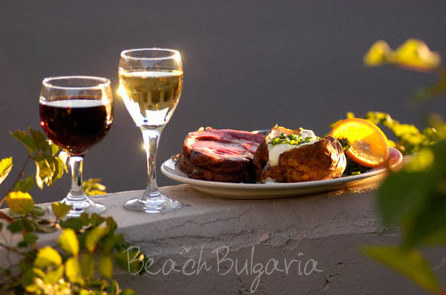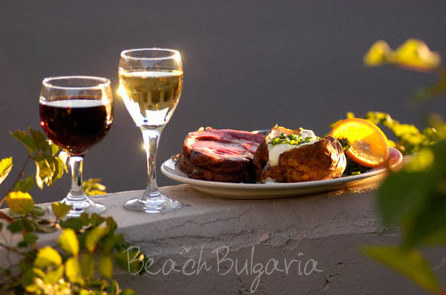 Bulgaria offers a wide choice of restaurants and bars along the Black Seaside. The tourists are welcome to try the unique Traditional Bulgarian Cuisine, but if they prefer international cuisine they should not worry, because Bulgaria offers a wide variety of international food and beverages as well. Steak-houses, pizzerias, local pubs, Italian restaurants, Mexican restaurants and Chinese restaurants are just a few of the places you can enjoy your lunch or dinner at. Of course we highly suggest you to try the Bulgarian cuisine and wines. The Bulgarian cuisine is tasty, spicy and varied, usually goes well with good wine. The Black Sea of Bulgaria brings nets full of fresh seafood, so that you can also enjoy different seafood specialties. The local vineyards produce golden grapes and high quality red and white wines, that go perfectly well with every meal. Anyway, whatever type of cuisine you chose, do not doubt that the bars and the restaurants in the Bulgarian Black Sea resorts are tourist-friendly and will definitely bring a special charm and atmosphere to your holiday.

The TOP 10 restaurants of the Bulgarian Black Sea resorts are:

Hanska Shatra (Khan's Tent) in Sunny Beach.
It is located at the top of a hill, several kilometers away of Sunny Beach. Waiters wear special traditional costumes. Traditional cuisine served. Special live folk music starts at seven, followed by an hour show. The restaurant is touristy – perfect choice for your vacation time!

Djanny in Sunny Beach.
It is a famous restaurant, loved both by bulgarians and foireigners for their fast service, incredibly cheap prices and fresh food. It offers salads and sometimes soups, 50 sorts of warm appetizers from meat and fish, specialties from the oriental cuisine, meals on a clay slab, serbian hot grill, pizzas.

Mamacita's in Sunny Beach.
Mamacita's is the only authentic Mexican restaurant in the resort. Traditional Mexican specialities, lovely char grilled steaks & pizzas, English breakfast, Heinz beans on toast, bacon butties, club sandwich, and French Hot Dog are served.Mamacita's offers a great variety of Top shelf Margaritas: Classico Margarita, Peach Margarita, Laguna Rita, Strawberry Margarita, Margarita Planto, Margarita de Coco, Melon Margarita, Ice breaker Margarita, Margarita Acapulko.

Raffaelo Ristorante in Sunny Beach.
Feel the charm of Italian & Mediterranean cuisine! Raffaelo house specialities are: proscutto melone, carpaco, lasagna "classico", chicken with gorgonzola, chicken "saltinbocca", exclusive selection of pasta and pizza on a wood burning oven, tiramisu, dzupa inglese, pana cota.

The Windmill in Sozopol.
The restaurant is situated above the rocks of the Old Town of Sozopol. It is famous for its original interior and exterior and the beautiful view towards the sea. The menu offers dishes from the Bulgarian national cuisine. The restaurant has a rich folklore program. Working hours 10 a.m. to 24 p.m.

Neptune Restaurant in Sozopol.
If you want to feel the breeze and relax with a glass of wine by the sea, you should definitely visit Neptune Restaurant. The restaurant is located in the Old Town, on the restaurant sea alley. It offers unique view towards the sea. Traditional, international cuisine and seafood served.

"Captain's Meeting" Restaurant in Nessebar.
"Kapitanska sreshta" Restaurant is situated in the South part of Old Nessebar. The building is a National cultural monument built at the end of 18-th century. The restaurant serves Black Sea fish specialities and Bulgarian national dishes. The restaurant is set on several levels (terrace, halls, VIP). Opportunities for conferences and celebrations available.

Happy Bar & Grill in Varna.
Happy Bar&Grill is the largest bulgarian fast-food chain. Typical fast food restaurants with a variety of dishes and drinks. Chicken dishes are recommended as specialties. The atmosphere is typical just like in Happy Bar. There are also places in the open. There are Happy Bar and Grill restaurants also in the Golden sands resort and in the St. Constantine resort.

"Hushove" Mehana in Varna.
The restaurant offers a menu with various dishes and drinks. The specialty of the restaurant is KUKER"S SHASHLIK or trout in an earthenware dish. The summer garden is decorated in a traditional style and is very original. The waiters are dressed in national costumes. Great atmosphere! Great service!

Luxor Restaurant in Bourgas.
Luxor Italian restaurant has formed a new culture among the fans of Italian cuisine. Luxor is the only place where genuine connoisseurs can taste 's trade mark cheese and prosciutto. The wine list of Luxor Restaurant includes more than 100 Bulgarian selected wines as well as wines from all over the world. The rich menu offers a true culinary adventure throughout the regions of Italy.