Hotels in Primorsko and information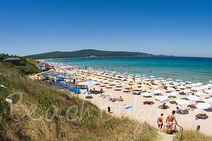 Location:
Primorsko is a town and seaside resort in southeastern Bulgaria. It is situated on a small peninsula 52 km south of Bourgas and 450 from Sofia.
The rivers Ropotamo and Dyavolska reka run close to the town, and the Snake Island reserve is also nearby.
Primorsko is a climate resort and a center of the youth tourism.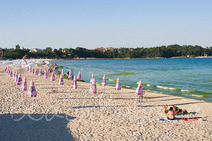 The climate and the beach:
The climate in Primorsko is temperate-continental with Black Sea and Mediterranean influence. The summer tourist season lasts from May till October. The average temperature is 27°C in July, often reaching 30-33°C.
There are 4 beaches near Primorsko – north, central, southern and Perla.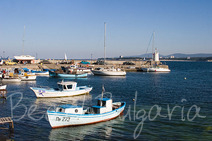 The site is covered with broad-leaved trees and bushes and is actually a park with a lot of alleys among an old beech forest.
In 1998 Primorsko was awarded the prestigious Blue Flag by the Foundation for Environmental Education in Europe - a recognition of the purity of the nature in its region.
Accommodation:
Accommodation in Primorsko is available in hotels of different categories, small family hotels, hotel complexes, villas and rooms in private houses. There are student dorms and campgrounds as well.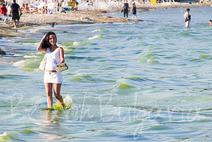 Bars and restaurants:
The restaurants in Primorsko serve traditional Bulgarian and international meals and fish dishes. Many of them offer live music. There are small cafes and discos opened all night long.
Entertainment:
There are four sanctuaries found near Primorsko, as well as 12 dolmens and 10 mound necropolises. A unique sanctuary dating from ancient Thracian times can be visited at 5 kilometers north of the city. This is the biggest megalith sanctuary discovered so far in Eastern Thrace.
Maslen Nos cape (The Oily cape) is situated 6 km southeast of the village of Primorsko. Maslen Nos Cape is noted for its fantastic and eye-catching natural fiord- like attraction.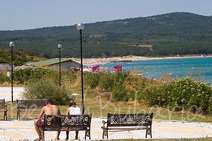 The River Ropotamo is in the vicinity of Primorsko. Ropotamo is one of the largest natural reserves of Bulgaria. This reserve is world famous for its rare birds and plants, that can be found only here.
There are many interesting and unique natural sites on the reserve territory, such as the firth of the Ropotamo river, the Arkutino swamp, dense forests, which are very rare at this attitude, various rock formations, wetlands, marshlands, etc.
The site offers attractive boat trips along the river.
Sport:
The beaches of Primorsko offer various attractions – a volleyball playground, gym, water ski, pedal boats, surfing, boat trips, scooters and children's facilities.