Hotels in Sunny Beach and information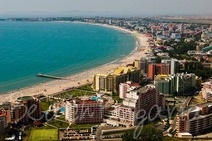 Location
: Sunny Beach is the largest and most popular holiday resort in Bulgaria. It is located on the Black sea coast approximately 35 km north of Burgas in Nessebar municipality.
In close proximity is located the town of Nesebar that is included in the UNESCO list of cultural inheritance sites. The largest yacht port on the Bulgarian Black Sea shore is situated in the nearby resort of Sveti Vlas.
With its hundreds of hotels, bars and restaurants, multiple entertainment and shops and its developed infrastructure, the resort attracts thousands of tourists from around the world.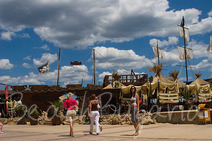 Beach and climate
: Sunny Beach is situated along the widest beach strip, with hotels spread along the beach and among the dunes.
The tourist season here lasts from May trough October. The average daily temperature in summer is 27°C. The beach line is over 10 km in length and in some places it is more than 60 meters wide. The beach features fine sand, natural sand dunes, clean sea water and gradually deepening sea bottom. Sunny beach resort was awarded the prestigious Blue Flag International prize for proven clean environment.
On the sand in front of the hotels you will find rows of sun beds and parasols. The "free zones" are behind the parasols.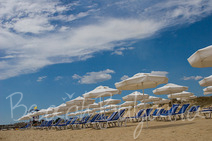 Accommodation
: The accommodation options in Sunny Beach are exceptionally diverse – there are hundreds of hotels of different categories, villas, guest houses, apartment hotels, etc.
Bars and restaurants
: Sunny Beach is famous all over the world for its nightlife. Popular DJs and performers are often guests here, and their parties attract many young people.
There are more than 200 restaurants and numerous live music bars, nightclubs, discos, cafes, pubs, casinos, karaoke bars.
During the day, most of these bars are suitable for families with children, where as at night many of them cater for the party people.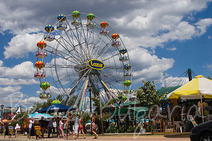 Entertainment
: Sunny Beach offers plenty entertainment for kids: kids clubs, children animation, children's discos, carousels, pony rides, swimming pools, slides, carting, sport schools, children's menus, etc.
Horrorwood (the haunted house) that is located in front of Pirin hotel is a favorite tourist attraction for families.
Sunny Beach offers several aqua parks: Action Aqua Park; Aqua Paradise, Nessebar, near Sunny Beach; Kuban Aqua Park; Pirates of the Caribbean Mini Aqua Park.
Varied cultural programmes - Golden Orpheus International Festival of Bulgarian Pop Songs, folklore and symphony concerts, exhibitions, Miss Sunny Beach contest, etc. Short boat trips to Nessebar inland are organized regularly.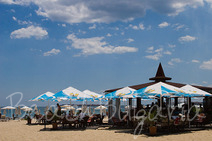 Sport
: Surfing, water skis and parachutes, hang-gliding and banana, sailing, yachts, paddle boats, cutters, scooters, rowboats, tennis courts, beach volleyball, playing grounds, mini-golf, skittle alley, bowling, riding ground, fitness halls, sports tournaments for amateurs and professionals.
Transport
: The airports serving Sunny Beach are Burgas Airport (approximately 25 km) and Varna Airport (approximately 100 km).
Sunny Beach is well connected by bus with all larger Bulgarian cities. There is no direct connection by train.
Nessebar – St. Vlas main road runs through Sunny Beach about 250 m way back from the beach area. The area between the road and the beach is primarily populated with hotels, shops and restaurants.
There are regular boat connections to the district centre of Bourgas and Varna and boat trips to Nessebar.