Conference for Yachting Tourism Opportunities in Riviera Beach Resort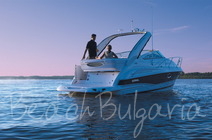 The representatives of the yacht business in Bulgaria and reps of different state departments will take part in discussion for the development of yachting and sailing tourism in Bulgaria.
Host of the event is Riviera Vacation Club. Accent of the program will be the needed law and normative changes, which the development of yachting is dependant from. The frontier and the customs regimes for the sailing of Bulgarian and foreigner's yachts in inner seaports are to be discussed as well. Special stress will be put on the opportunities for yachting tourism on the Bulgarian Black Sea coast and on the perspectives for construction of yacht ports and yachting infrastructure.
The conference will be followed by two-day yachts expo, at which a variety of boats, luxury vessels and yachts will be exhibited. The expo will take place on 2ng and 3rd June in Varna. Main participants in the event are 4 of the largest importers of yachts in Bulgaria: Venid Yacht, Yachting BG, LZ Yachting and InteRay, which are to present more than 30 sea vessels. Luxurious automobiles Mercedes will be also presented by Balkan Star Company. The potential buyers and the fans of sailing will have the chance to test the yachts and the cars after noon on Saturday, 2 June.
* Photo rights, by InteRay Ltd, Bulgaria