250,000 Russians Expected to Visit Bulgaria in Summer
News.bg, Feb, 01, 2008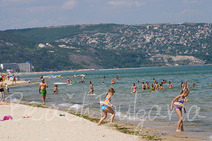 About 250,000 Russians are expected to visit Bulgaria during the coming summer season of 2008.
This was informed by Anatolii Shtelkunov, the general consul of the Russian federation in Varna city, quoted by the Standart daily.
According to his words the number of the Russian holiday makers is increasing every year. In 2007 their number reached 200,000 people.
The diplomat commented that an excitement in the tourist stream is expected after the passed visit of President Vladimir Putin to Bulgaria and the contracted agreements between tour operators of the both countries.
Bulgaria still finds technical problems for emitting visas for Russian tourists.
The consul believes that the visa may come quicker for those who desire to enter the country.