Hotels in Sveti Vlas and information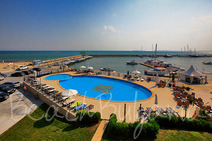 Location:
Sveti Vlas (also known as St. Vlas) is a beautiful fast developing resort, situated just 5 kilometers north of Sunny Beach and 9 kilometers from Nessebar.
This magnificent resort is a great combination of beautiful seaside at the foot of the Balkan mountain range. It has been developed into a modern beach destination during the recent years, with brand new hotels and tourist infrastructure.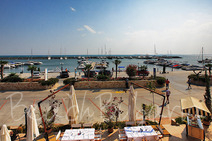 The climate and the beach:
The natural conditions - mountain, forest, sea and southern exposure of the mountain slopes, are extremely healthy and appropriate for a full relaxation.
The beaches at st. Vlas are three with a total length of 1,5 kilometers - the central beach is the longest one, south of it is the small beach and the third one is the beach nearby the new yacht port Marina. The sand is fine and golden.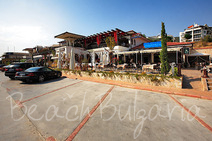 Accommodation:
There are numerous hotels of different categories and prices in the resort. Most of the hotels offer all inclusive accommodation. Check out the hotels in St. Vlas in the left menu, book online or contact us for more information.
Bars and restaurants:
Sveti Vlas is a quiet resort that will mostly suit families with kids or people who wish to escape from the noisy resorts. But the busy night life at Sunny Beach is just 5 kilometers down the road.
Entertainment:
The International Sailing Regatta "St. Vlas" is conducted on 18, 19 and 20 July. The host of the competition is the Municipal Marine Club "Nesebar 2000".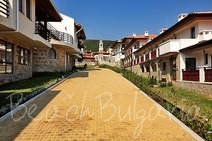 Transport:
There is regular bus transport from Nessebar, Sunny Beach and Bourgas to Sveti Vlas, and plenty of private minibuses, route and ordinary taxis. There is also water transport to and from Nessebar and Bourgas to Sunny Beach. The international airport of Burgas is a 20 to 30 minute drive away and is served by international carriers and charter airlines from throughout Europe.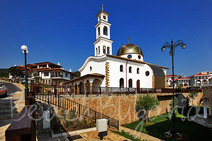 Yacht port "Marina Dinevi":
Yacht port "Marina Dinevi" is a modern Yacht complex built according to the international standards and requirements for Yachtports. It features a capacity for 300 yachts, 50 of which can be from the royal class over 25 meters long.
Situated at the foot in the southern slopes of the Balkan mountain, it is naturally protected from the cold prevailing northern winds.
The Marina offers excellent conditions for yachts accommodation. The possibility for direct use of electricity, water, cable TV and Internet are only part of the proposed package of services related to the operation and maintenance of yachts. The Yacht Port offers a service center with a workshop, shop for parts, accessories and equipment, training and recruitment of qualified personnel and captains.