Russian days in Bourgas
Kamelia Krumova, information by dariknews.bg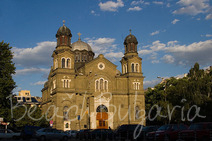 Bourgas will be the host of the traditional days of the Russian culture from 9th – 11 may. The celebration will will start on Sunday with wreath placement on the "Aliosha" monument in the centre of the city.

The celebrations will continue with a concert by different ballet and singer ensembles in the hall of the Bourgas opera. The film "the Liberation" will be projected in the home of culture of "Lukoil Neftohim" on the next day.

All events part of the days of the Russian culture in Bourgas will be free.