New Air Routes from Ireland to Bulgaria to be Opened
news.bg, Kristalina Ilieva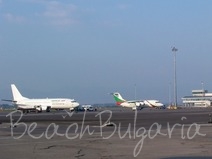 Irish national transporter 'Aer Lingus' opens flights from Dublin to Bourgas, Easier Travel web site announced. This will be the first air route to Bulgaria for the air company and the state of Eire in general.
'Aer Lingus' airplanes will fly twice a week to Bourgas, transporting Irish tourists to Bulgarian Black Sea coast, starting from the middle of June 2008.
Another air transporter, low - cost company 'Wizz Air' announced for its routes expansion to Bulgaria with the opening of new air line between Sofia and the Belgium airport Brussels - Charleroi from June 24 this year.
Together with this one, the air destinations from and to Bulgaria, realized by 'Wizz Air' company will become 9 in common.