European Festival Awards nominates Spirit of Burgas
tmbulgaria.com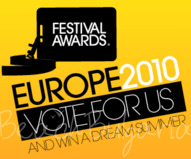 The Bulgarian music festival Spirit if Burgas is nominated in Best Medium Sized Festival category of the European Festival Awards. The festival was nominated in the same category in 2009.
In the initial phase of the competition Spirit of Burgas is competing with 68 European festivals. All fans of the Bulgarian festival can vote at
http://eu.festivalawards.com
. The fist part of the competition will end on November 23. The selected music festivals will compete in the second phase, which will end on December 8.
The European Festival Awards will take place on January 12 2011 in Groningen, Netherlands.