Bourgas co Offers Luxe Cruise to Istanbul
Dnevnik daily, 15 May 2007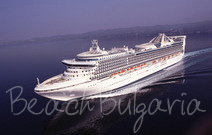 Burgas-based PS Group said it is testing a cruise route from resort town Nesebar to Turkish city Istanbul.
The company's 5-star Marina Princess cruise ship has performed its first cruise to Istanbul and back with 150 passengers.
PS Group said the cruise will be available daily within a week.
A regular cruise line to Greece is also on the card.