Hotels in St. Constantine and Elena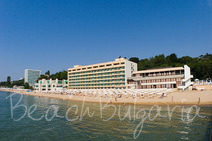 Location:
Saint Constantine and Elena is a resort town on the Bulgarian Black Sea coast located 8 km from downtown Varna and 7 km from Golden Sands resort. Saint Constantine and Elena is situated in a fine old park with cypresses, lilies and fig trees, quiet bays, sand beaches and curative mineral springs.
It is Bulgaria's oldest resort complex, also known in the past as Druzhba and Varna resort.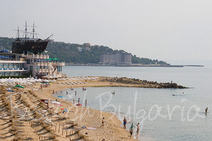 The climate and the beach:
The popularity of the resort is due to the unique combination of sandy beaches, mountain crystal clear air, mineral springs and the sea. The resort offers numerous mineral springs, balneology complexes, open-air pool with hot mineral water famous for its healing quality.
The climate here is continental Mediterranean, with hot dry summers. The average temperature during June is 22 °C.
The beach at Saints Constantine and Elena is 3.5 km long.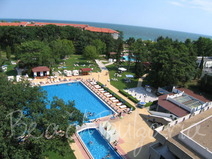 Accommodation:
The resort offers comfortable hotels, villa-settlements and holiday houses dominated by Grand Hotel Varna. Check out the hotels in Saint Constantine and Elena in the left menu, book online or contact us for more information.
Bars and restaurants:
The complex offers modern restaurants serving national Bulgarian and European cuisine, stores and bars.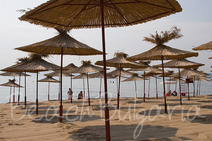 Entertainment:
The landmarks of the resort include the 16th-century Eastern Orthodox monastery of Sts. Constantine and Helena, the Euxinograd royal summer palace, park and winery, and the Sofia University Botanical Garden.
St. Constantine and Elena is the oldest resort along the Bulgarian black sea coast. It was founded in 1908 as a balneology center. It was first visited by Czech, Poles and Germans.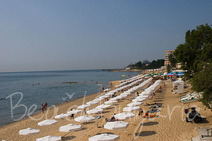 The name of the resort comes from the nearby situated monastery "St Constantine and Elena", which is built at the beginning of the 18th century. A small church halfway under the ground with regular services is the only surviving structure. Visitors can still enjoy a stay at the monastery together with a high-quality restaurant.
Sport:
Attractions besides the thermal baths include a dock for yachts, tennis courts, football pitches, and a variety of water sports and seaside attractions.
Transport:
Regular town buses run every ten minutes (from 6.00 a.m. till 11.00 p.m.) from the resort to Varna. Many minibuses and route-taxis are another alternative for quick transport to Varna. The resort is served by the Varna International Airport and bus lines of the Varna public transit system.