Arsena hotel is situated in the new part of Nessebar on the South beach of the town, not far away from the Old town. Arsena hotel offers 5 single rooms, 75 double rooms, 6 studios, 3 suites and 2 VIP suites with sea view.
Bilyana Beach hotel complex is located on the beach of the southern coastline of Nessebar resort on the Black sea in Bulgaria. The hotel features 125 rooms, 4 big suites, 4 small suites and 7 family suites.
Festa Panorama hotel is situated 150 m from the beach, on the promenade of the new part of Nessebar, close to the Old town. The hotel features 225 double rooms and 15 suites. All rooms offer large balconies with splendid view.
Marieta Palace hotel is situated 500 m from the beach close to the central part of the town of Nessebar. The hotel features 88 luxuriously furnished rooms and 16 suites.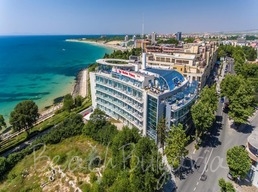 Sol Marina Palace hotel is situated only a few steps away from the beach, between the new and the old part of the town of Nessebar. The hotel offers 6 floors, 123 double rooms and 3 suites. Most of the rooms offer sea view.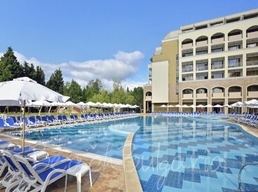 Sol Nessebar Bay hotel is situated next to the beach, approximately 2,5 km away from the old town of Nessebar and 4 km away from the center of Sunny Beach.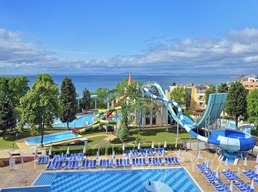 Sol Nessebar Mare hotel is located in Nessebar resort, in a garden with a wonderful view over the sea and the small village of Ravda which is located approximately 1.8 km from the hotel.
Vigo hotel is situated in the new town of Nessebar overlooking the harbor and the old town. The hotel features 6 floors and 132 luxury furnished guestrooms: 116 double rooms, 4 studios, 8 suits with sea view and 4 rooms for disabled people.
Aphrodite hotel is located on the beach in Nessebar Black sea resort. Aphrodite hotel offers 73 air-conditioned guestrooms with balconies with park, sea or pool views