Hotels in Duni and information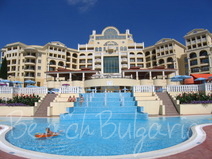 Dyuni is a modern, comfortable and attractive Holiday Village located 40 km south of the city of Bourgas and 7 km south of Sozopol, situated around a large bay right on the shore sand beach dotted with dunes, clean and safe sea 250 sunny days a year. Built around a semi- circular bay, facing south.
The 4.5 km long and up to 100 m wide beach is covered with fine golden sand and dotted with natural dunes. The beach is hilly and forested, strewn with small cottages designed in the architectural tradition of the Bulgarian National Revival. Elements of the natural environment (dunes, greenery) have been used for the design of the outer space. The sea is safe and calm, with a gradually sloping bottom, enabling even small children to safely splash about in the water. The bay is naturally sheltered against northern winds, making it an ideal place for all kinds of water sports. From early spring till late autumn the air carries the fragrance of sea and forest.
The Duni Holiday Village is situated amidst a fine nature reserve. Migratory birds stop here, close to Alepou Bay, on their route to the south - the perfect proof of a unique ecological environment!
Luxury villas (3 and 4 stars) designed in the style of typical Bulgarian National Revival architecture - a total of 1.400 beds in three zones: ZELENIKA, MARINA and PELICAN . Restaurants, day bars, night clubs, cafes
Tennis courts, swimming pools for adults and children, sports grounds.
The resort has a kindergarten and several specially equipped playgrounds.
Duni holiday village is the perfect spot for people fond of sports and for families with children. The resort consists of three main self-contained parts, with original architecture and an authentic style and atmosphere. These are Pelican, Marina and Panorama.
Each tourist is provided with the folowing services, included in the holiday package:
1. Overnight
2. Breakfast - in the restaurant - buffet
3. Lunch - at the beach/swimming pool (incl. local drinks) and in the restaurant buffet
4. Dinner in the restaurant - buffet (incl. local drinks)
5. A la Carte restaurant - bookings in advance (incl. local drinks)
6. Tea, coffee, cakes and ice-cream at fixed hours
7. Local brand alcoholic and soft drinks - 10.00 till 24.00
8. Beach umbrellas and sunbeds
9. Sports and amusement: table tennis, pedaloes, badminton, beach volleyball, football on small doors at the beach, trampoline, sauna, billiards, chess, backgammon, archery, darts, surfing (licence is required), aerobics, fitness, garden chess, water polo, water gymnastics, jacuzzi, kindergarten, weekly entertainment programme, satellite TV.
Paid services: all imported brand drinks, tennis, banana ride, parachute, sailing, bicycle, safe, rent-a-car, water jet, water skis, yacht trip, massage, hairdresser, cosmetics.