Hotels in Duni and information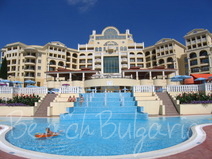 Location
: Dyuni resort in located 40 km south of the city of Bourgas, 7 km south of Sozopol and 10 kilometers north of Ropotamo reserve. It is situated around a large bay right on the shore sand beach dotted with dunes.
Beach and climate
: Duni resort offers 4.5 km long and up to 100 m wide beach covered with fine golden sand and dotted with natural dunes. The beach is hilly and forested. The sea gradually becomes deeper. The beach in Duni won the international eco-prize Blue Flag for pure environment.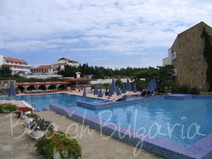 The resort is situated amidst a fine nature reserve. The climate here is continental, and the average temperature in July is +23-24° С. From early spring till late autumn the air carries the fragrance of sea and forest.
In the vicinity are situated beautiful beaches Alepu and Arkutino.
Accommodation
: Duni offers luxury hotels and villas most of them designed in the style of typical Bulgarian National Revival architecture. Some of the hotels offer all inclusive accommodation. Check out the hotels in Duni in the left menu, book online or contact us for more information.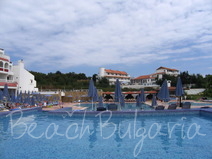 Entertainment
: The bay is an ideal place for all kinds of water sports. Duni holiday village is the perfect spot for people fond of sports and for families with children.
Duni offers tennis courts, swimming pools for adults and children, sports grounds, etc.
West of Dyuni, about 6 kilometers away, lies the Thracian fortress Malkoto Kale, built in the 8th century BC. It is located on the Kaleto peak (314 meters above the sea level).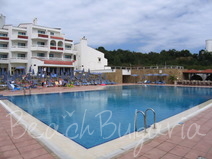 Bars and restaurants
: Duni Royal resort offers evening entertainment:
·International entertainment team of over 40 entertainers (professional dancers, brasilian capoiera dancers, hip-hop dance group);
·Different entertainment & show program for 14 days;
·Amphitheatre with 1600 pax capacity and professional sound&light stage equipment;
·Variety shows with professional decoration and costumes (dance, musical, black-light, playback, comedy acts and fire-shows);
·International sketch shows;
·Kids shows;
·Folklore music and dance shows;
·Every 2 weeks Pool parties with fireworks;
·Every 2 weeks Beach parties with bonfire and fireworks;
·Live music performances 5 times a week;
·Disco parties every night from 23:00 till 02:00.