Grand Hotel Varna Resort & Casino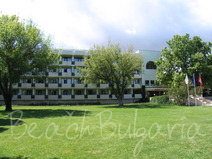 Grand Hotel Varna Resort & Casino is located 17 km North of Varna and only few kilometers South from Golden Sands and Albena.
This new resort was a part of St.St. Constantine and Elena resort in the past. Now Grand Hotel Varna Resort & Casino is a separated resort offering luxury hotels and first class services.
Grand Hotel Varna Resort & Casino consists of Grand Hotel Varna (5 stars) and 3 satellite hotels Dolphin (4 stars), Lebed (4 stars), Rubin (4 stars), as well as few other hotels, among them is Rusalka (3 stars, recently re-constructed).
Grand Hotel Varna is the perfect choice for business meetings, seminars, and conferences. It offers a modern business center, equipped conference rooms with 20-220 sitting places, modern technical support and professional service and worldwide communications.
The exclusive children's clubs offer a whole new world of fun and excitement to all young guests aged between 4-12 years old. They will get a chance to play crazy games, be close to nature, experience many adventures and to try out their artistic skills with amazing craft lessons.
Open year round, this is one of the most luxurious and stylish hotels on the Bulgarian seaside.