Hotels in Rusalka and information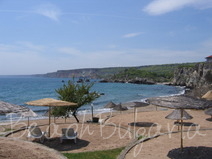 Rousalka is a holiday compound situated in the picturesque oak forest of the Tauk Liman (Bird's bay), 90 northeast of Varna and 40 km north of the resort Albena. Rousalka holiday vilage is the perfect blend of unspoilt nature and original architecture. Rocky coast, a nice sandy beach. Smalle cottages built in clusters, one next to another or one above another. Hot mineral water, peloid.
Ailata and Kaliakra Cape are situated close to the resort. They are famous for the rare plant species, great variety of birds and historical monuments, dating back to ancient times. The picturesque caves and the small nestling beaches with crystal waters, where dolphin families are playing, create a unique atmosphere for an unforgettable holiday.
Every day of your vacation here is full of entertainment, and sport is simply a way of life.
Facilities available to guest:
600 villas with two beds, a terrace, and a bathroom. Some of the villas are connected with internal door, which makes them suitable for families with children. The secure parking and the restricted access to the complex ensure the security of the quests.
The restaurants are famous for their excellent cuisine. They offer Bulgarian and European specialties in which you can participate, if you wish. The terrace of Tauk Liman Restaurant terrace is particularly attractive to the guests, where they can enjoy the magnificent panoramic view of cape Kaliakra. You will be served exotic cocktails as well as brand wines from special regions.
Visitors can also enjoy Kosharite folk-style spot, Bar-Tavern housed in a natural cave, day bar, night club;
Guests looking for an active vacation can enjoy yacht club with 15 yachts and 15 canoe-kayaks, tennis courts, minifootball field, volleyball, basketball, archery and horse riding; Fitness hall; 10 tennis courts (two of them are lighted).
There are curative mineral water showers (38 °C) in the place of old Roman thermae; an open air swimming pool with mineral water, a wide Jacuzzi pool, as well as a diving center. The recreation centers at Roussalka offer saunas and variety of anti- stress and recreation programs.
The complex offers all day Kindergarten and children's sports.