Nessebar Will be Hosting Days of San Marino
Actualno.com, with BeachBulgaria.com. 31 May 2007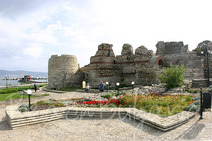 Nessebar will be hosting Days of Republic of San Marino in Bulgaria. In the end of June an official delegation from the republic will arrive in Bulgaria for the event.
Leading turoperators and the ministers of tourism and sport in San Marino – Pari de Andreolli and Frakna Volpanarri will take part in the tourist event.
The Days of San Marino will be part of
the summer cultural holidays, named "Nessebar Panorama". The amphitheatre in the Old town of Nessebar will hold musical recitals, demonstration of traditional crafts and culinary evenings with traditional cuisine and drinks.
Respectively, days of Bulgaria are planned to take place in San Marino in July. Our country will be presented by the municipality of Nessebar then.
Bulgaria is one of the eight countries, which are invited in San Marino. The others are Jamaica, Yemen, Cuba, Hungary, Poland, Portugal and Russia.
Nessebar and San Marino signed a memorandum for cooperation in the tourism industry last year.