Hotels in Kranevo and information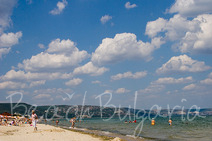 Location:
Kranevo is a small village situated 45 km from the city of Varna and 2 km from the resort of Albena, which can also be reached on foot along the sea shore stripe.
South of the village there is a rocky outcrop covered with trees and north of the village lies a Baltata nature reserve.
Beach and climate:
The beach is wide and covered with light sand. The sea is shallow with slight inclination and allows safe swimming for children.
There are two camps nearby "International" and "Exotic". North from Kranevo is the valley of Batova river.
In the southern part of the beach, preserved by a high slope of the plateau, there is a National Children Complex.
In 1968 mineral water 24°C was found in the site. Kranevska River is flowing close by the village.
The climate is strongly influenced by the sea. The temperature of the sea between July and September is 22-25°C and average air temperature is is over 25°C and may reach up to 32°C.
Accommodation:
Kranevo offers hotels, apartments and private rooms for rent. The prices in Kranevo resort are lower than the price in the nearby resosrts.
Bars and restaurants:
There are many restaurants in Kranevo with Bulgarian traditional food and dishes from the Greek and Turkish cuisine. There are a lot of bars and restaurants along the beach with a good selection of food and drink available. Many of the restaurants offer live entertainment including traditional folk music.
Entertainment:
Kranevo offers many school camps. It is known as a resort for kids.
Tourists can take a pleasant walk along the beach to Albena.
The Baltata reserve spreads out on 183 ha longoz forest. It starts from the main road Kranevo – Albena, continues behind the hotels of Kranevo resort and reaches the open waters of the Black Sea.
To the north of Kranevo, in the valley of Batova river, there is a dense forest, black soils, and lime rocks in some places. Vine-growing, fruit-growing and vegetable growing are developed in the region.
Transport:
There is a regular bus transport to Varna, Dobrich, Balchik and Kavarna.