Hotels in Kosharitsa and information
Yana Dikova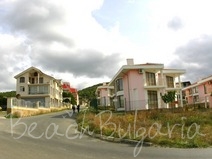 Kosharitsa is a small village, situated in Nessebar municipality, in the region of Bourgas. It has a very good location, just 4 kilometres away from the Bulgarian equivalent of Las Vegas - the lively Sunny Beach Resort. The picturesque village is beautifully nestled at the foot of the Emine Balkan, part of the Old Mountain Balkan Range. It reveals unforgettable views towards the mountain and at the same time its close proximity to the sea and the lovely beaches of Sunny Beach makes it a perfect place for a relaxing summer holiday.
Kosharitsa has been recently developing, while plenty of investments are being made in the region. There are a variety of project development plans, including construction of a golf course in Kalinata Range and building of modern residence complexes. Many properties for sale in the region are offered as well.
In Kosharitsa there are very good opportunities for sport tourism, including mountain biking, fishing and hunting. You will be surprised by the natural beauty of the place. If you want to experience a different summer holiday, the small village is definitely the right challenge for you!
For more info and property sales in Kosharitsa, please
click here!