Hotels in Chernomorets and information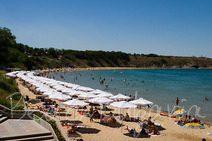 Location
: Chernomorets is situated at the Bulgarian southern seaside, just 23 km south from Bourgas and 8 km away from the town of Sozopol and Duni resort.
Chernomorets lies at the low northern slopes of the Strandzha mountain, between Cape Emine to the north and the Arkutino marshland to the south. To the east of Chernomorets is St. Ivan Island, with Sozopol to the southeast of the town along the seaside road.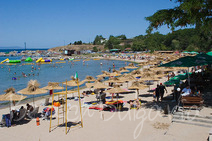 Beach and climate
: Chernomorets features four clean and peaceful beaches.
The town is located at a distance of only about a kilometer from "The Golden Fish" and "Chernomorets" camping sites and the Gradina camping site, which offers excellent conditions for surfing.
The beaches are well hidden from the wind between rocky ravine, overgrown with nice bushes and young trees.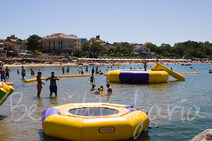 The unique King's Beach, which spreads out to the south is suitable for water-skiing, fishing, water- jumping, sea trips, and even nudism.
From May till September the average temperature of the water is about 22 °C, which makes it good for bathing until late October. At the same time the summer heat is easily endured, because of the fresh sea breeze.
Accommodation
: Chernomorets offers hotels of different categories, villas and private apartments for rent.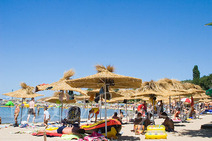 Bars and restaurants
: Most of the restaurants are situated at the sea coast offering panoramic sea view. Other restaurants, traditional taverns and cafes are located on the Trades' Street. The local restaurants offer a variety of show- programs, selected drinks, and Bulgarian and international meals.
Entertainment
: The landmarks of Chernomorets are the Orthodox temple "St. Nikolas" and the "Garden of Eden" located opposite to it.