Hotels in Ahtopol and information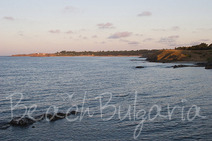 For those in search of restful relaxation with few distractions, Ahtopol may be the answer. Known to the ancient Greeks as Agatopolis ("City of Happiness"), the town today is a quiet, laid-back place popular with holiday-making Bulgarians, Czechs, Slovaks, Russians and Macedonians. The small town Ahtopol is situated 87 kilometers sought of Bourgas.
The beautiful mouth of Veleka River is just 4 kilometers south of the resort. It offers two long and picturesque beaches. The water tends to be warmer (around 25 °C) and more placid here, and off-the-beaten-path beaches allows the opportunity for nude bathing.
Its name dates back from ancient times. In the past it was a Thracian setllement. Later on the Romans called it Perontikus. The now existing town was rebuilt after a huge fire in 1918 when everything was destroyed.
Some very ancient coins were found near the town, including emissions, coinaged in Mexico, Brazil, Argentina, and from nerly all European countries.
Interesting site is the Church "Assumption" and "St. Yane" monastery. Malka papia is a peak in Strandja Mountain which is soaring above the resort.
Ahtopol has a number of trade union rest homes and the town is a popular destination for families who can't afford the more expensive resorts.
A popular gathering spot is the "Yuka" cafe opposite the attractive new post office building. On the cafe's exterior wall is a colorful mural featuring the artist's fanciful rendition of ancient Agatopolis.
Four kilometers south of Ahtopol is the magnificent mouth of Veleka River. Close to it is the small village Kosti famous for Nestinarski dances.
Varvara village is 3 kilometers north of the site. It is a favorite place for divers, because of the stone underwater cavities and reefs, formed by shells and other water species.
Tourists who want to experience unforgettable adventure holiday in a desolated site among virgin nature will be more than satisfied here.
South to the border holidaymakers can enjoy the beautiful beaches of Sinemorets, Silistar and Rezovo.
There is regular bus and minibus transport to Bourgas (passing through most of the towns and villages in the southern part of the coast) and Sinemoretz and Rezovo to the south.