Ferryboat to Link Bulgaria's Varna and Russia's Caucasus
Novinite.com, 25 April 2007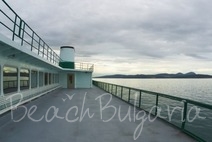 Bulgaria and Russia will sign a cooperation agreement for building a ferry link between Varna and a Caucasian port, Economy and Energy Minister Rumen Ovcharov said in Sofia.
This will help activate bilateral commerce that is currently hindered by the missing transportation link, Ovcharov said.
He added that Bulgaria's export for Russia has gone up by 35% in 2006 and has reached values of USD 205 M according to local statistics. Russian data claims the number is even bigger - USD 330 M.
The deputy-chairman of Russia's government Sergey Narishkin said that the import of Bulgarian wine, machines and equipment is on the rise in Russia in 2007.