Bulgarians will Meet 19 000 Tourists Coming from Cruise Liners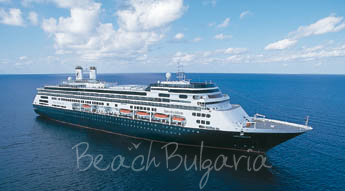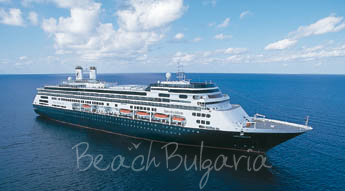 Author InfoTourism, with BeachBulgaria.com, 05 June 2007 Date 05 June 2007
6 cruise liners are to visit the sea port of Varna this season. 6 of them have already passed through the sea capital of Bulgaria. According to the sea port master in Varna - Captain Valentin Kitanov this season the port will welcome more tourist compared to last year. On 26 April the first liner "Victoria" arrived. Then the Holland "Rotterdam", "Spirit of Adventure" and the Israel "Iris" followed. Now the sailing exhibits of the Turkish ferry "Samsun" are taking place in Varna. On 09 June, the 204-metre-long "Princeandam" Cruise Liner, owned by "HollandAmericanLine" Company arrived. On 13 July the British "Royal Princess" with more than 1000 tourists on board will haul down sails. Varna sea port also expects the "See cloud" sailing boat, which comes to Varna each year. During the summer season an average of two ships will arrive monthly, while the intensive sails season will start in September. The end of the season will be marked by the visits of three liners – "Europe", "Vista mar" and "Iris". On 11 June "Krimskaya Strela" Catamaran starts its cruises on the regular line Odessa-Varna. The courses will continue for three months and about 10 000 tourists are expected to take this cruise. The catamaran will berth in Varna every Monday and Friday. The attraction boats, starting from Golden Sands and St.St. Constantine and Elena are pretty active as well. Last year a total of 12 500 tourists got on board of such entertaining summer boats, sailing in the sea. Yachting Tourism is also getting popular recently. The number of private yacht owners has significantly increased in Varna and therefore an expansion of the sea reservoir and a yacht port construction should be planned.
Comments on Varna Cruise Liners (0)
Please, post a comment on Varna Cruise Liners.
We will greatly appreciate this. It will help us improve the content of this website, so other people know what they can expect.
+359 2 962 22 13
+359 886 000 779