Varna Airport expects 1,2 passengers this year
Kamelia Krumova, 17 May 2010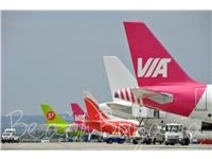 Varna airport expects to preserve the number of passengers using its services. This was announced by the head of the airport Mr. Dimitar Kostadinov. He expects that the majority of passenger will arrive from Germany, they will be followed by guests from Russia and Izrael.
Kostadinov attended the opening of the new VIP hall in the airport. 200 thousand BGN were invested in its modernization.
Kostadinov also added that the management team of the airport is now working over the projection of the new terminal of the airport.