Varna Presents Hardcore Punk Fest 'East Noise Attack' 2
news.bg, Blaga Bangieva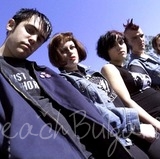 Second Hardcore festival from the serial 'East Noise Attack' will take place on August 18-19 in the hardcore capital of Bulgaria - the city of Varna.
This was announced by the organizers of 'Zone 51 Booking'. The event will be open air next to Varna's prison in north industrial city zone.
The last edition of the 'Attack' took place in Sofia on March 17 and was the first performance of Varna hardcore punk bands in Sofia from a long time.
On August 18 the fest will offer: 'Tragic Vision' (Germany), 'Deadrise' (Serbia) and the local 'On Our Own', 'Face The Truth', 'One Faith', 'Envy', 'G.O.T.C.', 'A-Moral', 'Manical Pictures', 'Plastic Bo', 'Pizza', 'Last Hope' and 'Indignity'.
On the second day are expected: 'The Wanters' (USA), 'PRF' (USA). The Bulgarian scene will be presented by: 'Underdogs', 'Mindown', 'Overdown', 'Brothers In Blood', 'Empty Face', 'Spot', 'Crowfish', 'Death Squad', 'B.F.D.M.', 'Cold Breath' and 'Outrage'.