Tourism and Leisure Fair Starts in Varna
news.bg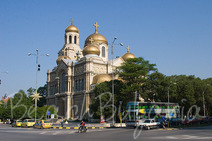 The 31st Tourism and Leisure Fair starts today in the Bulgarian sea capital Varna.
The event will continue till February 15, informed radio Varna.
During the exhibition, which will be held in the Palace of culture and sport, companies supplying equipment for hotels and restaurants will be presented.
The first day starts with wine presentation. A project for a National strategy for sustainable development of tourism in Bulgaria 2008-2013 will also be presented.
Representatives of various ministries, directly or indirectly connected to tourism will take part in the event during the second day.
During the third day, the possibilities for partnership between the marine industry and tourism for the creation of innovative products in the Northeast planning region in Bulgaria will be discussed.