Passengers Ship with Israel Tourists Arrived in Varna
InfoTourism, with VisitBulgaria.NET, 17 May 2007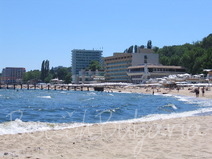 The cruse liner "Iris", who is sailing with 1270 passengers on board, arrived in Varna seaport from Hijfa.
The passengers' ship is 140 metres long and carries 1300 lovers of gambling to the sea capital of Bulgaria.
The guests will be accommodated in Varna hotels, gambling games in casinos provided for them in Varna and the nearby resorts.
Tomorrow, 18 May, the cruise liner is heading towards Thessalonike in Greece.