Regular flights from Varna to Saint-Petersburg will be opened in April
Kamelia Krumova, BeachBulgaria.com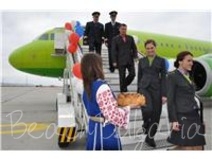 Regular flights will start operating from Varna to Saint-Petersburg, announced the press office of Varna airport.
The flights will be operates on Tuesdays and Fridays. Another regular line will be opened from Varna to Ekaterininburg on 07 June. The summer schedule of the airport will be valid from 28 march.
Regular flights will be operated to Sofia, London, Vienna, Budapest, Moscow, Rostov on Don, Saint-Petersburg, Novosibirsk, Ekaterininburg, Odessa, Berlin, Dusseldorf, Luxemburg, Oslo, Warsaw, Brussels, Kishinev.