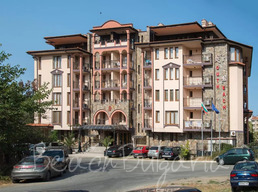 Special offer:
15 % discount for all reservations during 24 Aug - 14 Sep 2013.
Location: South Beach Hotel is located in the Southern beach of Tsarevo resort, at Nestinarka beach on a total area of 6500 sq. m. The resort complex is situated just 60 km from Burgas Airport.
Info
Accommodation: The complex consists of three buildings, Blocks 1, 2 and 3, with a total of 150 luxury-furnished apartments, each with an area of 50 to 100 sq. m. Most of the apartments are with a sea view. Some of the apartments are studio-type with no bedroom, some of them feature one bedroom or two bedrooms. In the complex there are 2 VIP apartments.
The apartments consist of living room, kitchen bedroom, entry hall, balcony and bathroom. In the living room there are a sofa, an armchair, a site table, a TV and a telephone. The kitchen is equipped with a kitchen raft, dining table, 4 chairs, two hotplates, a fridge and aspirator. In the bedroom you will find a double bed, two night-stands, a desk and a mirror. All apartments feature a bathtub in the bath.
Bars and restaurants: The complex offers 2 restaurants for 200 guests, an outdoor barbeque, a Lobby bar and a Garden bar.
Facilities:
- Reception;
- SPA centre;
- Fitness hall;
- Open air swimming pool with sunshades, deck chairs and tables;
- Children's playground;
- Amphitheatre for animation shows;
- Conference Hall;
- Parking lot.
**Hotel rooms may vary in size and style. Guests can be accommodated in a different room from the images shown here as examples only.