Luca Helios Beach is an all-inclusive hotel in Obzor resort on the Black Sea Coast. It is situated on the beach, 150 m from the nearest shopping centre, 300 metres from the centre of Obzor, 60 km from Varna Airport and 70 km from Burgas Airport ...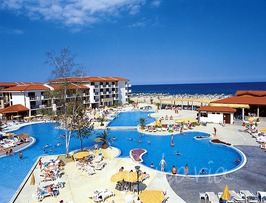 Miramar Hotel Complex is situated 1 km away from Obzor resort (between Sunny Beach and Golden Sands). The hotel is located on the beach front.
Obzor Beach Resort is situated on the first line of the sandy beach with a total length of 800 m and width of 60 m in Obzor Black sea resort. The hotel complex offers 524 stylishly furnished suites, most of them with stunning sea view.
Riu Helios Bay Hotel is located on the beach of Obzor resort, 60 km from the international airport of Burgas. The complex is surrounded by gardens overlooking the sea. Regular bus lines connect the town of Obzor with neighboring resorts and cities ...
Sol Luna Bay Resort Hotel is located on the beach in Obzor resort, close to Calimera Beach, 45 minutes away from Varna airport and 10 minutes away from Byala resort. Overlooking the Black sea and boasting magnificent views, Sol Luna Bay Resort ...
Sunrise All Suite Resort (ex. Sunrise Apartment Complex) is located in Obzor North Resort Complex, 3 km to the north from the city of Obzor, 200 m away from the beach, reachable via an asphalted alley. The distance to Varna Airport is 65 km and to Burgas ...
The Cliff Beach & Spa Hotel is located on the cliffs overlooking the sea on the South Beach of Obzor Black Sea resort, about 70 km south of Varna and 60 km north of Burgas.
Chorbadji Petkovi hanove hotel complex is located in the town of Obzor, 380 meters from the beach and 5 minutes walk from the city center and the bus station. It is situated amidst privately owned park of 4000 sq.m.
Gallery holiday complex is situated 500 m away from the sea coast in the town of Obzor. The complex is surrounded by green trees and offers a wonderful view to the Black Sea coast. The hotel offers transport to the beach.