Hotels in Kamchia and information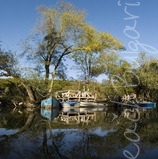 Location:
Kamchia is a small resort situated about 30 km to the south of Varna and about 110 km to the north of Bourgas. Te resort lies north of the mouth of the river Kamchia in the heart of the Kamchia natural reserve.
Beach and climate:
The resort offers a wide beach, a quiet river and thick forest, that turn the resort into one of the most romantic beautiful sites along the Bulgarian Black Sea coast.
The river rises from the East side of the Balkan mountain and before running into the Black sea it makes a small delta, which calmly overflows the sandy beach strip.
The climate in Kamchia is temperate-continental, the average January temperature is 1.2 °С, and the average July temperature is 23 °С. Because of its close proximity to the sea, the average air humidity is high - about 75-80 %.
Accommodation
: The resort offers small hotels and bungalows. Prices in Kamchia resort are more than reasonable. Most of the villas lie in the midst of a tropical-like forest, called 'Longoz Forest' with more than 40 different types of bushes and trees.
The complex includes post office, restaurants, cafes, disco club, tennis court and playgrounds.
Entertainment
: The entire natural reserve on both sides of the Kamchiya river is a great sight for nature lovers.
Bars and restaurants
: There are a few pubs in the complex with traditional Bulgarian cuisine and nice interior. There are a big marketplace and several small shops and stalls, as well.