Bulgaria's Burgas Airport Opens New Passenger Terminal
Novinite, 30 June 2007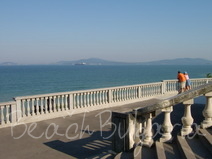 A new passenger terminal of Burgas Airport was officially inaugurated Friday marking Bulgaria's Aviation Holiday.
The Transport Minister Petar Mutafchiev spearheaded the opening ceremony of the facility, which is to increase the airport's capacity by over 40%.
The net investments in Terminal 3 as part of the concessionaire Fraport Twin Star Airport Management's program, stand at some BGN 7 M.
The new terminal has been fully equipped with modern facilities including such for disabled people.
"No Bulgarian air carrier entered the EU's black list, which means the evaluation of the aviation administration is positive," underlined Minister Mutafchiev at the official opening ceremony.