Bourgas Beach with Free Parasols
Sofia News Agency, 28.07.2006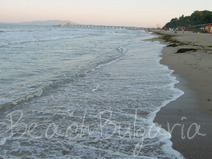 Bulgaria's seaside Bourgas has reportedly become the first with free parasols at the beach, its concessionaire said Friday.
Vaklin Stoynovski says that 60% of the beach is already enjoying the coolness of the shades for free.
According to the businessman, no other Bulgarian beach, operated by private firms, boasts the same advantage.
He also announced that during the peak of holiday season - from late July to the end of August - lifeguards would be working until later, 7 p.m.