Three day carnival will mark the official opening of the summer season in Bourgas
information by BNT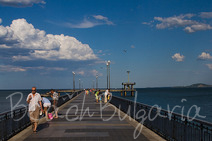 Bourgas municipal will mark the official opening of the new summer season with Art Carnival which will be held three days and three nights in the city.
The event will start on 6th June. Artists and artist formations will participate in the event. Carnival processions, competitions and more than 20 shows, concerts and programs will be held during the event. The events in the carnival will be presented in three theme overnights – classic works of art, artistic provocations and contemporary compositions, compositions with mystic atmosphere, attractive vision and performance.
The participants in the carnival will present their art on several stages around the town.
Animator groups will take care for the good mood of the citizens and guests of Bourgas.