11 Beaches Distinguished with the honourable "Blue Flag"
Kamelia Krumova, information by Bourgas municipality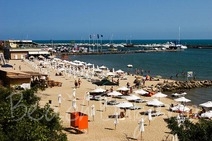 The Bulgarian movement "Blue Flag" announced that the international jury of the program "Blue Flag" praised 2884 beaches and 627 yacht ports in the northern hemisphere.
The Bulgarian movement "Blue Flag" announced that 11 of the Bulgarian beaches have received the honourable prize. These are the beaches in Albena, Sunny Day, Elenite, New beach and central beach in Sveti Vlas, Sunny Beach – north, Sunny Beach – south, Pomorie – east, Sozopol – Harmanite and Duni, as well as the yacht port Marina Dinevi.
Albena and Sunny Day successfully bear the prize for many years. The Bulgarian movement welcomes the return of the Beach in Elenite in the list.
A new participant in the program is the Central beach in Sveti Vlas, who has met all of the requirements of the program precisely and will be presented during the international visits.
The beach in Duni is traditionally distinguished for its perfect management and is often chosen by the international commissions for the perfect site to hold the annual meeting of Blue flag.
For the first time the beach "Bunite" in Varna applies the international standard led by Andrey Vasilev.